FARADAY Electronics® power supply units in aluminum or metal housing including those with adjustable output voltage of 12-24 V are applied in access systems, video control systems (not in the least degree due to ease of adjusting voltage if a cable supplying power to video camera is quite long), security systems and fire prevention systems in devices used in industry).
Mechanical and thermal durability of frame, possibility to mount it to DIN rail and a wide adjustment range have made them the most popular devices among our customers.
We constantly expand our model range. Currently, it consists of the following models: 18, 36, 50, 75, 120, 240 and 350 W. Low-end models (18-75 W) are made with output voltage adjustment of 12 to 24 V range which makes them universal ones (you can only purchase one model and use it for different levels of voltage (12-24 V). Models 240 W and 350 W are supplied in two versions with fixed output voltage (12 V and 24 V).
Импульсные блоки питания для инжекторов POE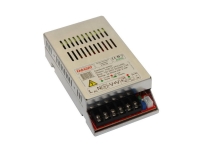 | | |
| --- | --- |
| Model | 45W/50-60V/120AL |
| Output wattage | 45 W |
| Output voltage | 48,5–61,5 V |
| Output current | 50В:1,0 А; 60В:0,75 А |
| Efficiency | Uout=50В, ≥82%; Uout=60В, ≥84% |
| Input voltage | ~100–240V; ±150-380V |
| Inrush current | 40А max |
| Protection type | automatic |
| Warranty | 2 years |
| Documentation | Блок питания 45W (ru)/(en) |
| DIN-rail fastening | DIN holder delivering separately |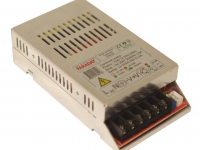 | | |
| --- | --- |
| Model | 65W/50-60V/140AL |
| Output wattage | 65 W |
| Output voltage | 48,5–61,5 V |
| Output current | 50В:1,3 А; 60В:1,1 А |
| Efficiency | Uout=50В, ≥82%; Uout=60В, ≥84% |
| Input voltage | ~100–240V; ±150-380V |
| Inrush current | 40А max |
| Protection type | automatic |
| Warranty | 2 years |
| Documentation | |
| DIN-rail fastening | DIN holder delivering separately |